To accelerate growth of young companies
Quantino receives $3 million in support from the City of Quebec
July 6, 2023
Québec City
Quebec City has awarded a grant of up to $3 million to Quantino, the high-tech business incubator powered by INO, to enhance its incubation services for young technology companies, particularly in optics, photonics and medical technologies.
Launched in 2020 by INO, Quantino has already accepted 29 technology start-ups, 8 of which are in life sciences, thanks to partnerships with the CERVO Research Center and the Institut universitaire de cardiologie et de pneumologie de Québec. The incubator accelerates their growth by giving them access to first-class infrastructures, state-of-the-art equipment and world-renowned expertise. Today's investment by the City of Quebec is an important step towards expanding the range of support services available to the region's medical start-ups, and ultimately, towards increasing the total capacity of the incubator.
"This support is important because it will enable the incubator not only to continue its activities, but also to enhance and develop its offering for life sciences companies," said Bruno Marchand, Mayor of Quebec City. "Quantino's activities are essential to the pursuit of research and the development of technologies aimed at ensuring the health of our populations. We are very proud to support the incubator in our City and to contribute to its international reputation."
"A major step has just been taken. We're confident that this new strong support from the City of Quebec will turn into a major magnet for more technology companies, while bringing together an impressive pool of life sciences experts in Quebec City," affirmed Martin Larrivée, INO's Vice President, Finance.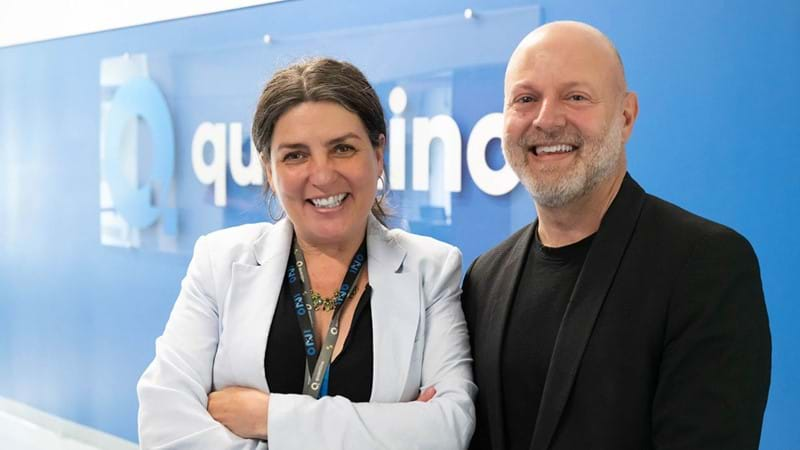 Valérie Hénaire, Quantino Manager, and David Weiser, City Counslor