Press release
Partnership creates business incubator for medical technology companies in Québec City
June 22, 2021 From 1:00 PM to 1:30 PM
City hall
Quebec, June 22, 2021 - INO's high-tech business incubator, is partnering with Université Laval's Québec Heart and Lung Institute Research Centre ("the Institute") to provide comprehensive incubation services to emerging medical businesses. Their goal? Develop made-in-Québec solutions for preventing, diagnosing, and treating cardiovascular and respiratory diseases (including COVID-19 and other emerging viruses) as well as type 2 diabetes and obesity.
The partnership between the two organizations expands the services provided by Quantino—initially for optics, photonics, quantum, and hardware startups—by making access to facilities and services easier and by enlisting Institute experts in selecting and supporting businesses with projects in healthcare.
Sharing expertise, laboratories, clean rooms, entrepreneurial services, and research platforms will encourage the emergence of high-value-added companies that develop exciting innovations and high-tech products that can revolutionize the field of medicine.
"This partnership between Quantino and IUCPQ-UL is excellent news for medical research," said Geneviève Guilbault, Deputy Premier, Minister of Public Security, and Minister Responsible for the Capitale-Nationale Region. "It will stimulate economic growth in the Québec City area, advance research, and catalyze innovative ideas and technologies that will improve human health."
"This joint venture from INO and IUCPQ-UL is part of the network of incubators and accelerators launched by Québec City under its 2026 Entrepreneurial Vision plan. It will offer end-to-end incubation services for startup medical companies in Québec City," said Québec City Mayor Regis Labeaume. "Direct links between research and entrepreneurship create value, and that's why city hall is proud to support initiatives like this one."
"The partnership will turn the Québec City area into the promised land for entrepreneurs specialized in medical technologies," said Mr. Alain Chandonnet, CEO of INO. "When we hit our stride, we expect to see innovations emerging here that will rock the world, move the province of Québec toward medical self-sufficiency, and boost the local economy."
"We're pleased with the consolidation of this partnership between IUCPQ-UL and Quantino," said Dr. Denis Richard, director of the Institute Research Centre. "The partnership between our organizations is a great way to create winning conditions for innovation in all our fields."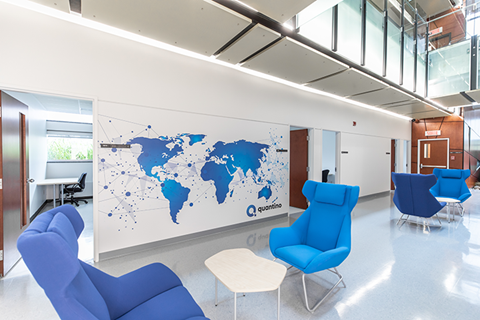 Be ready for the next call for application!
You have an emerging business that specializes in the medical field? Contact us now : https://www.quantino.ca/en/be-incubatee/